As you may know, there is an Equinox coming up on September 22nd. With this Equinox, we will be feeling quite different but it is nothing to be afraid of.
This Equinox will be the turning point of the year and marked when the Sun shifts into Libra. Libra, in case you didn't know, is a sign that for the most part revolves around finding balance and learning to live in harmony with others. It is a sign that helps us to look at life from a more compassionate view. To sum it all up, this is a sign that encourages us to be the best versions of ourselves we can be.
As the Sun shifts into Libra on this Equinox, we will be experiencing a lot of new things. During this time there will be a huge shift in energy. While we are used to these shifts, this one will be more focused on allowing our goals to meet their full potential. This will be a hard energy shift for Mother Nature as she is still sorting through all the energy she absorbed during the Total Solar Eclipse that made its way across the United States.
As this Equinox happens we will be invited to balance ourselves out and find the middle ground that we have been needing for quite some time. We will be forced to take the good things with the bad and while some of this will be hard to accept we do not have any other choice. The Universe will not push something on you that you cannot handle and you need to remember that above all else.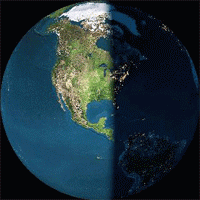 Credit: The Weather Channel
Of course, we will all be slowing down during this energy shift and while the balance will be found, we will also be given the time we need to breathe and Mother Nature (or Mother Earth) will be able to recover even if just for a moment. As we are moving closer to the final months of 2017 we will be dealing with everything that we have been putting off and our new truth will become our reality. This Equinox will soften even the most masculine being.
Trust your inner voice and embrace all that is to come. This will feel a bit draining and odd, to begin with, but once you get where you need to be, things will settle down. While we cannot change the past, we can savor the future and the future will be wonderful. Creativity will be high and if you take this time now before the Equinox hits to reflect on how you want this chapter of your year to end you will be all the more prepared.
The energy to come will be calming and should ease any harsh feelings you have been having. Let things simmer down and allow yourself to flow right into where you need to be. Make every moment count and enjoy the energy to come.
Source:http://awarenessact.com